February 24, 2021
tips stories
The perfect pairing recipes to taste Another_Story chocolate!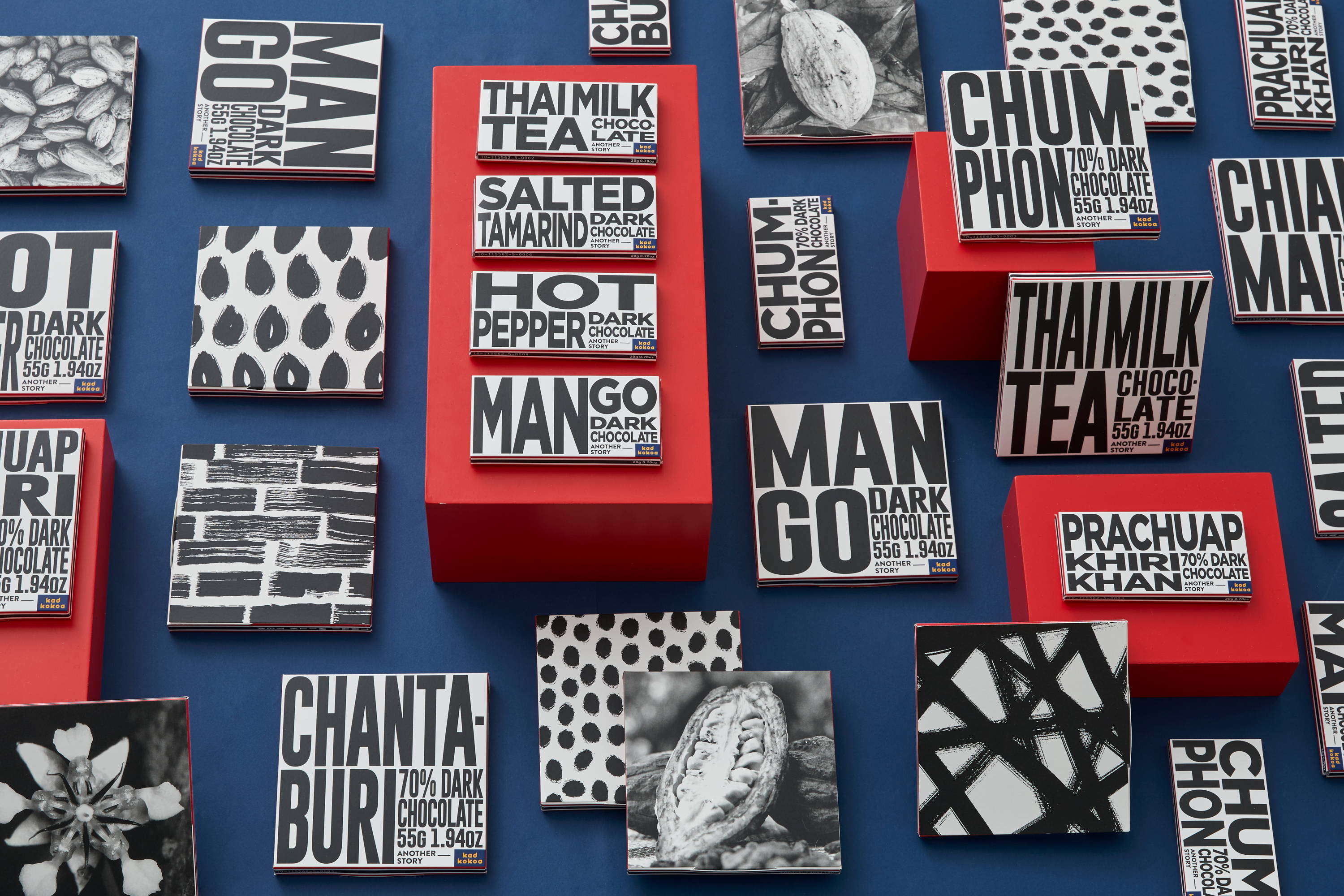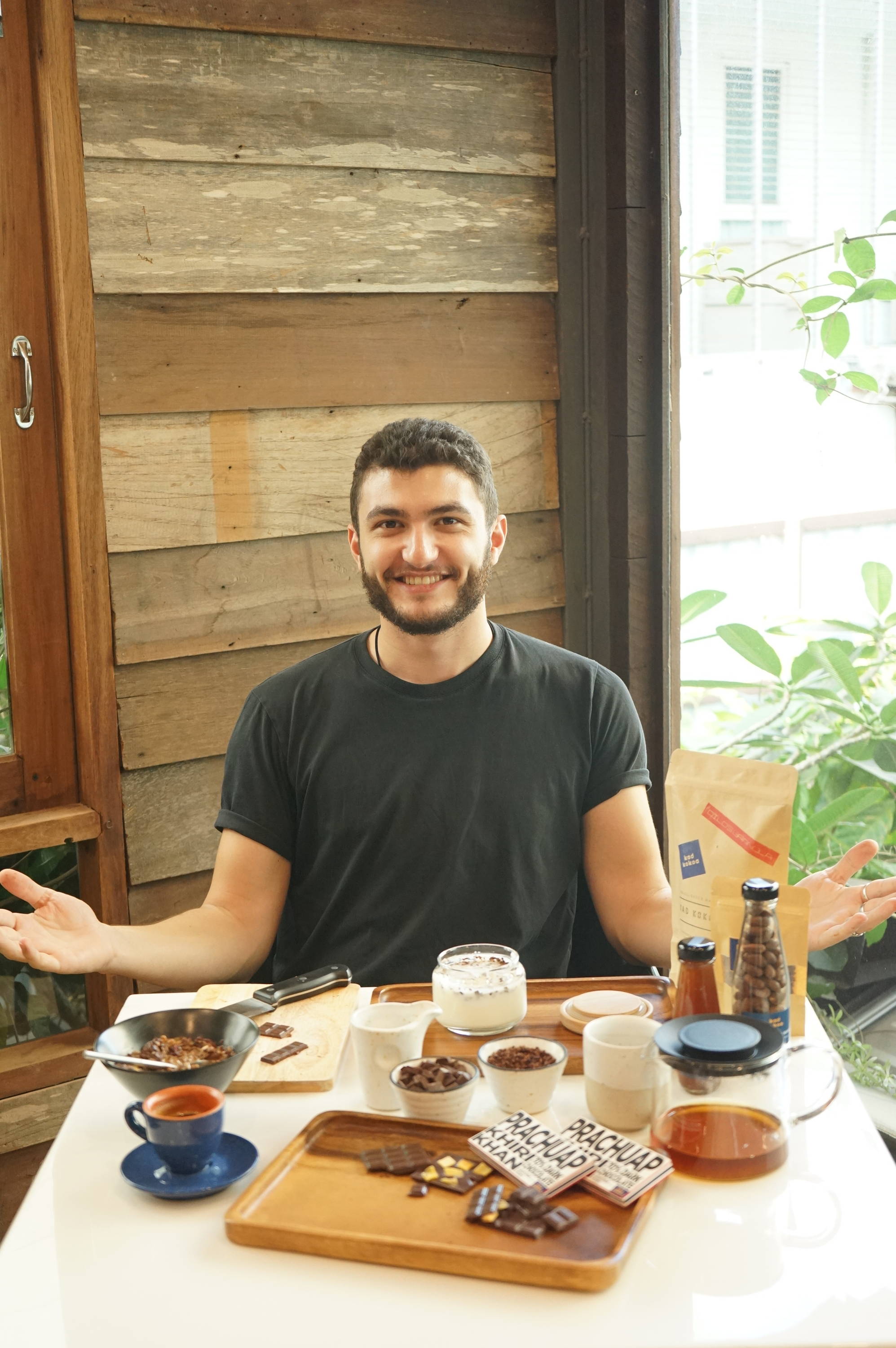 Khun Leo Sebag, the operation manager of Kad Kokoa cafe
Another_Story Exclusive Chocolate
---
Discover the exclusive chocolate collection from Another_Story crafted with passion by our expert and favorite fine chocolate maker, Kad Kokoa, premium bean-to-bar, single-origin, chocolate brand made of Thailand.
The brand sources cacao beans that are of single provincial origins. It supports the collective and farmers for the bean grading, fermenting and drying the beans to ensure it brings out the complex flavors and aroma of Thai chocolate. Its taste and quality are guaranteed by the International Chocolate Award 2018 and 2019.
Pair your chocolate with love
---
First pairing to try: Chocolate time with a hot cup of tea. Our chocolate has very delicate notes that can be a little bit sour and a little bit fruity, blending perfectly with tea. We highly recommend a sweet tea, avoiding at all cost too much tannin like earl grey or any flavored tea. Winter blend from Monsoon tea is a great partner in crime to taste alongside with our Chantaburi single origin dark chocolate. Tips: Add a spoon of husk syrup instead of honey in your tea cup.
Chantaburi is a chocolate that is the fruitiest with the most layers of the exotic fruits and most complex chocolate that we have. So it blends perfectly with the complexation of the tea.
Note: 20 grams bar is the daily amount that we suggest to eat a day. Pick two squares by two squares to enjoy a full mouth of chocolate and all your taste buds activated and to properly taste chocolate. You have to let it melt in your mouth and shouldn't chew it too much. And once you get the layer of fruitiness, then you're ready to have a sip of tea!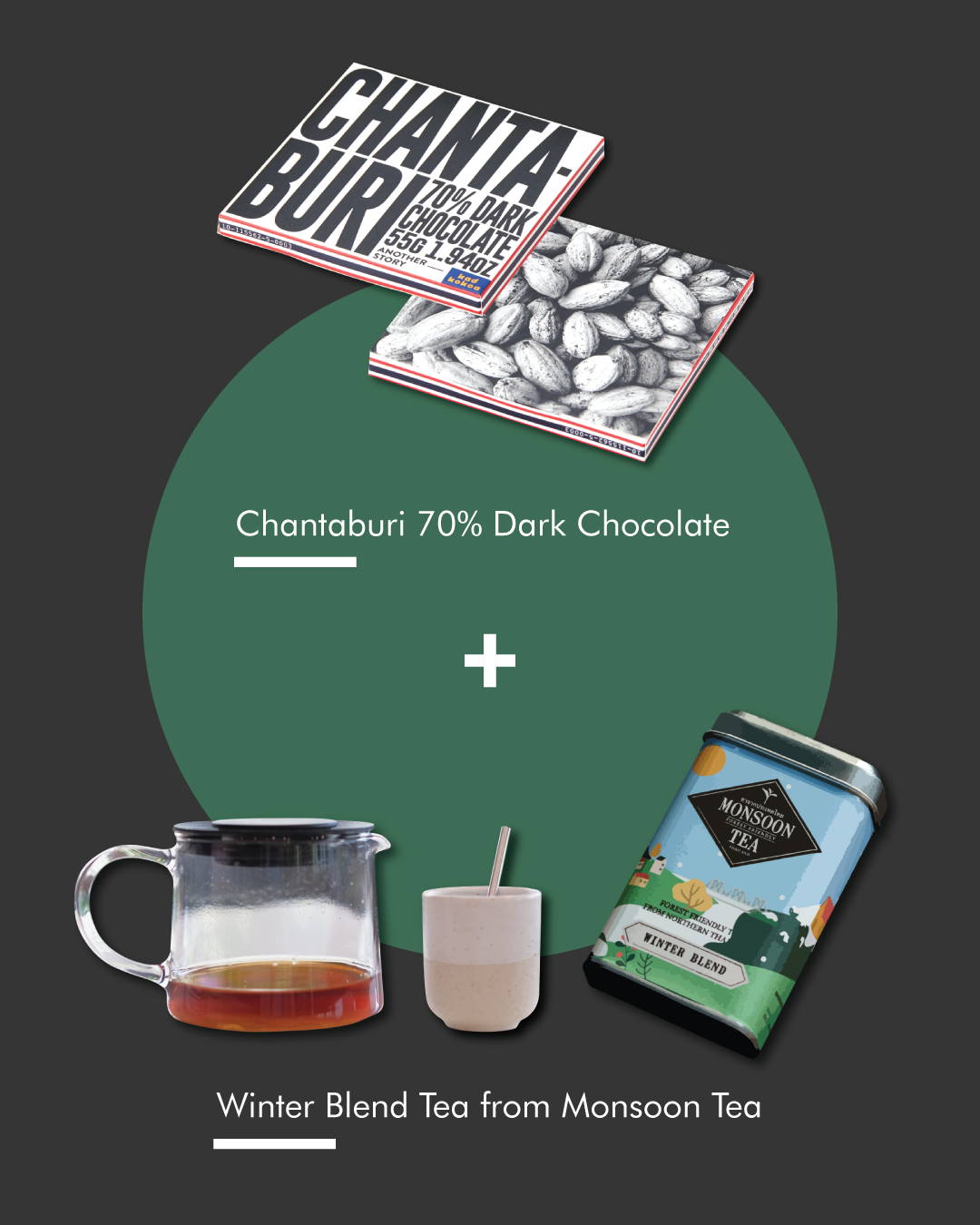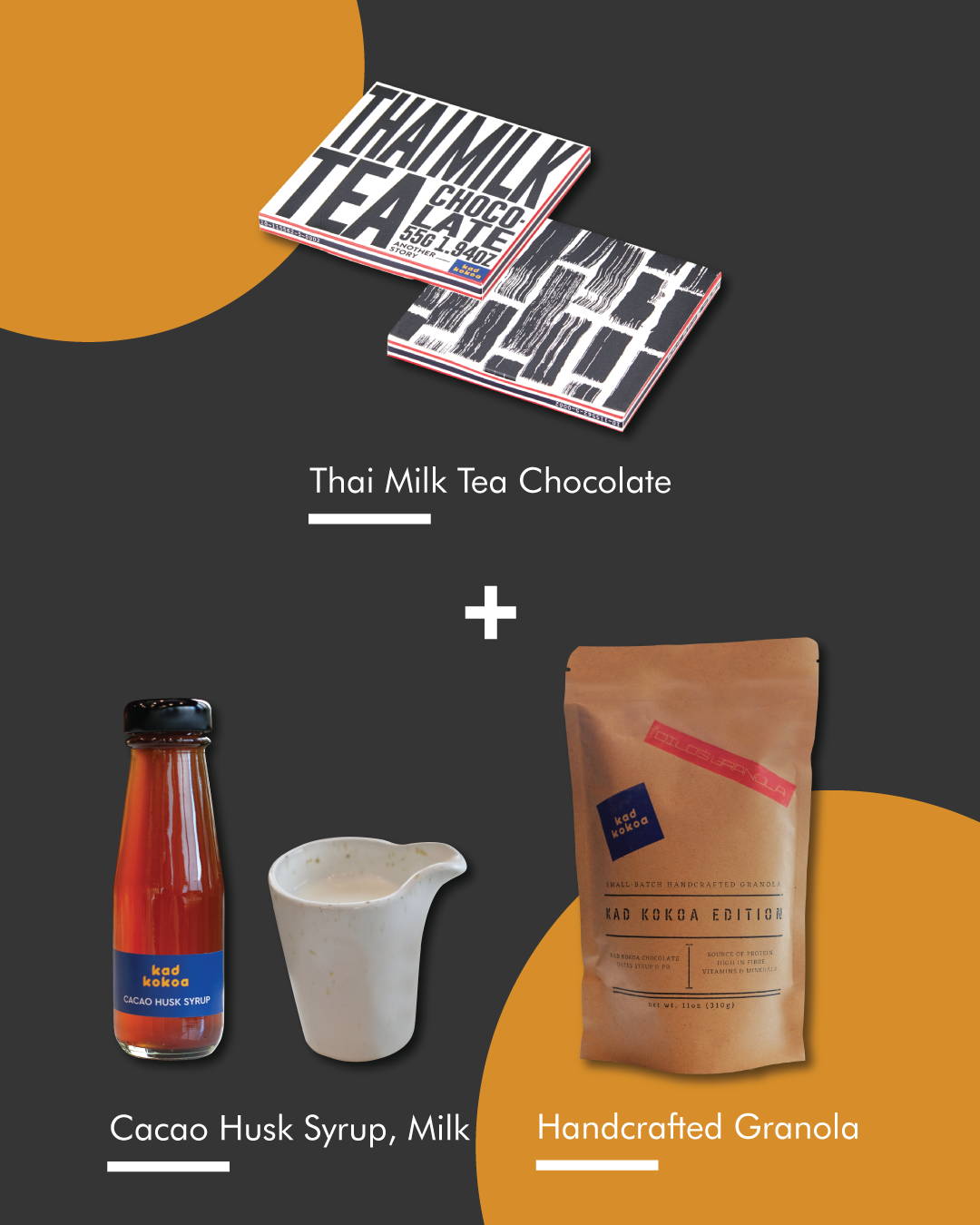 ---
Second chocolate to pair with love: Thai milk tea. We're really proud of this one because it's just so smooth thanks to the milk in this bar, giving a lot the smoothness to the chocolate, easy to pair with almost everything in your kitchen.
Today we suggest you try to pair Thai milk tea chocolate bar with some granola. As granola has already a little bit of date syrup on it, we would only recommend to add up some husk syrup to make it as sweet as you like. In order for the chocolate to blend well within the granola, you will ofcourse need to chop it!
Crack it first and enjoy the sound that it makes when it cracks certifying in a fun way the quality of the chocolate. Tips: when it snaps, it's a good sign for the quality of tempering. Then you can chop it until the size of chocolate chips is around 0.3 millimeters each.
To balance the sweetness with a little bit of bitterness and crunchiness, you can add some cacao nibs (little bit less than the chocolate) and some milk just up to the surface. (so the granola doesn't drown it to the milk and get too soaked)
Here it is "The Perfect Breakfast"!
---
Our Mango flavored chocolate is the perfect match to drink with coffee, especially espresso. Here we use only Thai beans. Thai bean has a particularity to have quite a low bodied and a lot of fruitiness, very slight notes of red berries, and cherries. So the light body allows some space for the chocolate. And the mango is the best one to pair with because the mango comes and cleans with the sour finish of the coffee. Mango is probably the most aesthetic bar that we have with the big chunk of mango showing on the bar.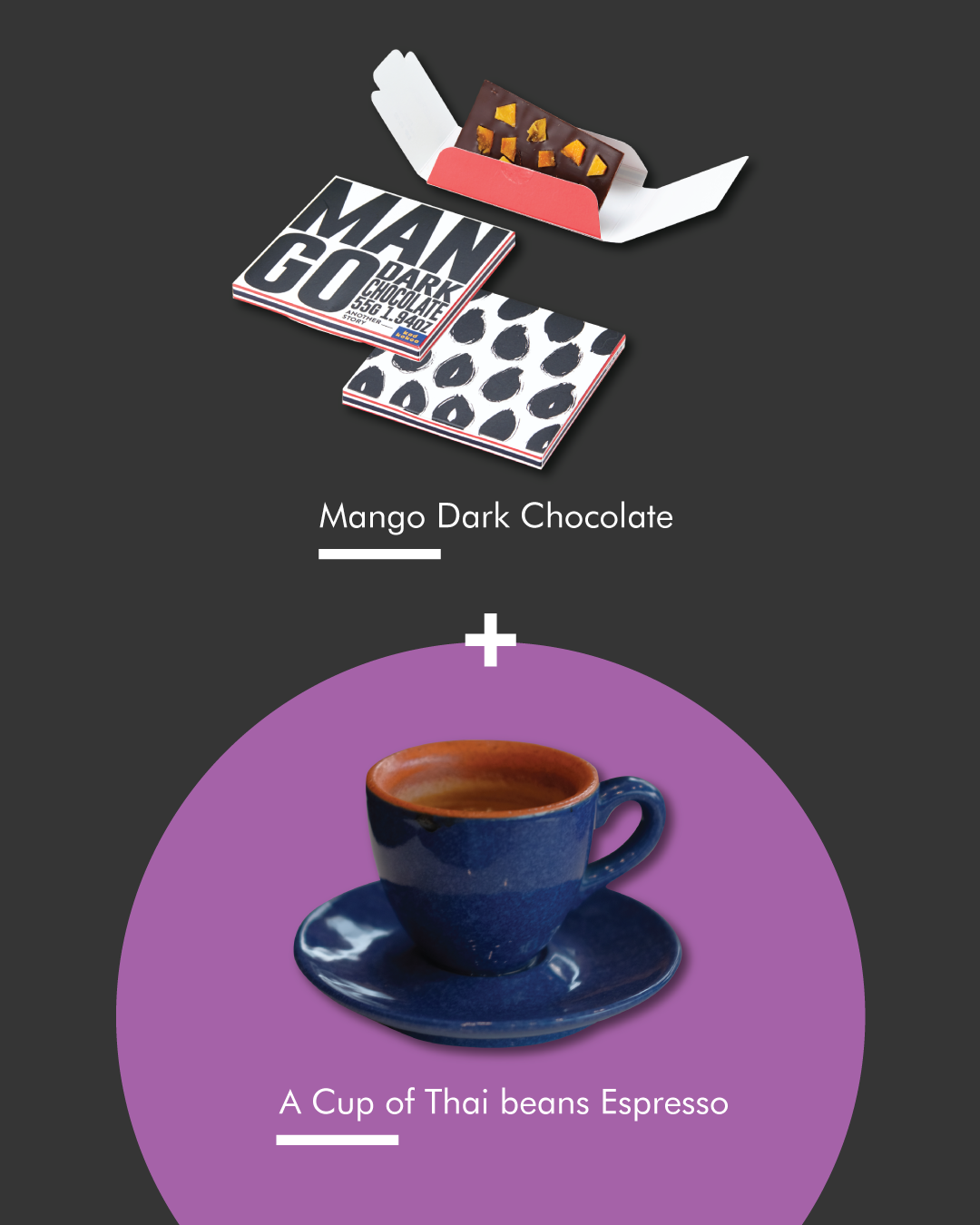 ---
Super simple pairing to do at home is with Yogurt: enjoy the clear, refreshing and slightly sour taste of yogurt with any of our chocolates.
Here we use Prachuapkhirikhan because it has a note of raisin which is what you should look for when you have a yogurt. Same rule as with the granola pairing: chop the chocolate to blend it well with the yogurt.
And as above, add some cacao nibs to get some crunchiness and bitterness (1 or 2 spoons). Last but not least, a little bit of cacao husk syrup for the sweetness before mixing everything together and here we go! Another breakfast is ready to be served!